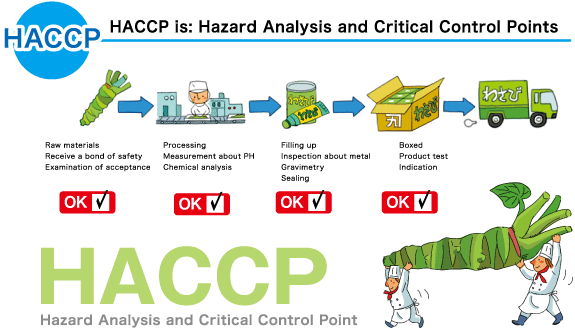 What is HACCP ?
Hazard analysis and critical control points (HACCP) is a process control system designed to identify and prevent biological, chemical, and physical hazards in production processes in entire food chain.HACCP supports the producers, processors, distributors, exporters and all other stakeholders of food products to apply technical resources effectively and in a cost efficient way in assuring food safety. 
---
What is ISO 22000?
 ISO 22000 is an international food safety management standard it can be applied by any organisation directly or indirectly involved in the food chain and beverage industry such as poultries, fisheries, meat processors, canned and frozen food and etc.The consequences of unsafe food can be serious and ISO's food safety management standards assist organisations identify food safety hazards and have effective control measures in place.
---
What is SQF (Safe Quality Food Institute) Standard ?
The SQF  meets the needs of all suppliers in the food industry through an internationally recognized certification system, featuring an emphasis on the systematic application of HACCP for control of food quality hazards as well as food safety. The implementation of an SQF management system addresses a buyer's food safety and quality requirements and provides the solution for businesses supplying local and global food markets.
There are two levels to the SQF management system
Level 2: HACCP Food Safety

Level 3: HACCP Food Safety & Quality




---
What is BRC?
The British Retail Consortium (BRC) first introduced its Global Standard for Food Safety, a GFSI benchmarked standard, in 1998. Today the BRC Global Standardfor Food Safety has almost 16,000 certified sites in over 100 countries world-wide.
BRC initially developed its Global Standard for Food Safety in order to help the food industry meet legislative requirements of the EU General Product Safety Directive and the UK Food Safety Act.
---
What are the benefits of Food Management System?
Implement globally recognized food safety management System with a preventative approach to food safety

Reduce costs on raw material wastage, rework and food recall

Efficiently eliminate and minimize food safety risks across the supply chain by reviewing and improving system

Increase customer satisfaction and consumer confidence by Improving product quality

Reduce the risk of contamination and minimize the possibility of food poisoning

Improves corporate image

Sustain or increase market access

Facilitate inspections mainly because of the recordkeeping and documentation